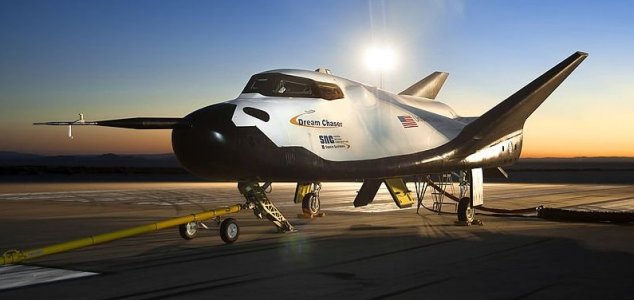 The Dream Chaser is shaping up to be an impressive vehicle.

Image Credit: NASA / Ken Ulbrich
Sierra Nevada has announced that its Dream Chaser spaceplane has completed a critical free-flight test.
The impressive vehicle, which resembles a smaller version of NASA's space shuttles, was originally developed with manned spaceflight in mind but has since been earmarked to fly cargo runs to the International Space Station within the next few years.
This week private spaceflight company Sierra Nevada revealed that testing on the vehicle was going well and that on Saturday it completed a crucial free-flight test over the Mojave Desert.
The test, which was designed to demonstrate the Dream Chaser's landing capabilities, saw it glide gently down on to the runway after being lifted in to the air by a helicopter.
It is hoped that it will began carrying cargo up to the space station sometime in 2020.
SNC is proud to announce the Dream Chaser® spacecraft had a successful free-flight test today @EdwardsAFB, with support of @NASAArmstrong. The Dream Chaser had a beautiful flight and landing! pic.twitter.com/lAn0n7FPsg

— Sierra Nevada Corp (@SierraNevCorp) November 12, 2017
Source: The Verge | Comments (1)
Tags: